The Voice of Italy: Elhaida Dani, finalista del Team Cocciante con l'inedito "When love calls your name" – TESTO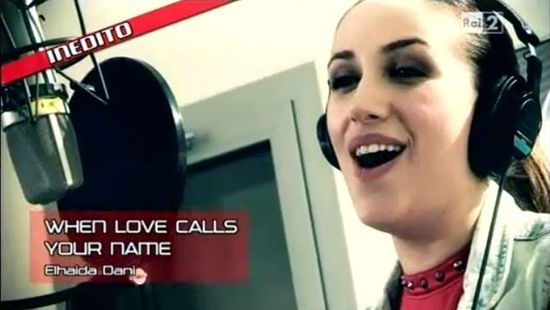 Elhaida Dani, è la finalista per il Team Cocciante di The Voice of Italy. Durante la semifinale dello scorso giovedì ha battuto incredibilmente Mattia Lever, cocco di Antonella Clerici in quanto ha partecipato e vinto l'edizione del 2010 di Ti lascio una canzone e stracandidato alla vittoria anche per quanto riguardava questo nuovo talent. Ma Elhaida, con la sua voce strepitosa e potente è riuscita ad arrivare in finale, battendo il più acerbo Lever. Tra i quattro finalisti in gara è la più giovane, avendo appena diciannove anni.
Viene da Tirana ed ha iniziato a cantare a soli sei anni. Nel suo paese, l'Albania, Elhaida è molto famosa soprattutto perché, nel 2009 ha vinto l'edizione albanese di Star Accademy e successivamente (per l'esattezza nel 2012) si è classificata prima anche al TopFest, con un brano inedito che ha riscosso incredibile successo. Quindi, nonostante la giovane età Elhaida sa perfettamente il fatto suo, sa stare di fronte un pubblico numeroso e non ha paura del palcoscenico, almeno da quello che traspare, anche grazie alla sua voce.
Vi ricordiamo che la finalissima condotta da Fabio Troiano con la partecipazione di Carolina Di Domenico, andrà in onda questo giovedì, a partire dalle 21.10 su RaiDue e, oltre ai due ci saranno i super vocal coach d'eccezione: Raffaella Carrà, Piero Pelù, Noemi e Riccardo Cocciante. Riuscirà la pupilla di quest'ultimo a vincere anche questa gara? La determinazione c'è, ma il resto? Nel momento in cui vi scriviamo, il suo inedito su iTunes si trova alla posizione numero 68.
A seguire il testo della canzone
Elhaida Dani – When love calls your name
Love
you gotta hear it when it calls your name
we can fly away
you gotta catch it anyway you can
by the night to lay
got to go where love calls your life
and in the moment of goodbye
The strongest of chance
will just fall away
and life before will be no more
when love calls your name
No children's cries can change your mind
you live for now, the past behind
it's passion now
you find a way
when love calls your name
Love
you gotta hear it when it calls your name
we can fly away
you gotta catch it anyway you can
follow it today
got to go where love calls in your life
and in the moment of goodbye
The strongest of chance
will just fall away
there's no more tears and no more fears
when love calls your name
no memories to hold you back
no promises to keep you trapped
it's passion that you can't explain
when love calls your name
Yeah
Got to know when love calls in your life
And there's no asking yourself why
It goes through your soul
won't leave you alone
it won't let you breathe
it's down on your knees
the fever runnin' through your bones
it's burning and I won't let go
it's passion that you cannot say
when love calls your name
no children's cries can change your mind
you live for now the bast behind
it's passion that you're fighting then
when love calls your name
no memories to hold you back
no promises to keep you trapped
it's passion that you can't explain
when love calls your name
Love
you gotta hear it when it calls your name
we can fly away
Love can fly away